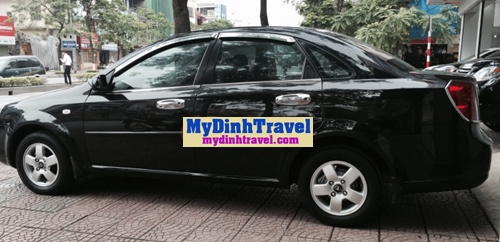 Whether renting a car for your business enterprise or vacation, you always hope that you can find a professional address to rent car and use some others services.  MyDinh Travel are the professional transport service company in Hanoi, Vietnam. We have range of latest and best quality cars for hire. Car for travel, wedding, carrying and many other vehicles are useful for your life. We know that the holiday is the most important time to help you can discovery many things about famous sceneries and culture in Vietnam. You can visit some places around Vietnam such as: Tam Dao peak, plateau in Moc Chau – Son La plateau, the Dien Bien (Tuan giao) East of Dien Bien.  That is so wonderful if we can help you make a wonderful trip by using our rental car service.
If you need to rent cars to travelling, wedding, carrying and many others vehicles.Please, contact with us through hotline:
Mr. Tien: 0948.520.688
The price of renting 4 seaters car
MyDinh Travel send you a quotation about rental car that will use in 2015

Also check that the price is all-inclusive and doesn't include nasties like an extra charge per kilometre.
Our Services include:
• 24/7 customer support
• Expense for fuel, insurance, toll fee and parking fee
• Salary and allowance for driver
• Experienced and English Speaking Driver
• New and Air conditioned car
Note: We don't rent car without driver, all the information about our services, please contact with customer support. We have responsibility to offer professional advices.
MyDinh Travel – The proffesional company rental car in Hanoi
Add: Room 301 No.30 My Dinh – Nam Tu Liem – Ha Noi – Viet Nam
Tel: (84-4) 948.520.688 / Fax: (84-4) 43 7959 449 / Hotline: 098 331 4426
Website: http://www.mydinhtravel.com / www.mydinhtour.com /
Email: vanphongxehanoi @gmail.com
Quý khách chưa hài lòng về dịch vụ- vui lòng liên hệ Mr Thám 0983314426 - email: vanphongxehanoi@gmail.com